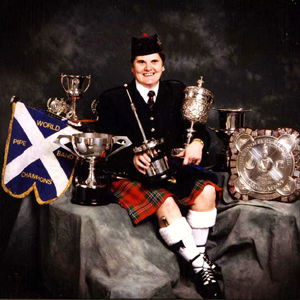 World pipe band champion Jwill be playing the annual lament to the world famous dog during Greyfriars Bobby Commemoration Day as is no longer able to play due to an operation on his hand.
The composer of a 'Tribute to Greyfriars Bobby' Jennifer will be playing the jaunty pipe tune during the event.
She  has an artillery connection as her grandfather  High Spence of the Royal Garrison Artillery was killed in action at Flanders on 7th July 1917 during the First World War.
Dog lovers wishing to attend Greyfriars Bobby Commemoration Day on 14th January should telephone the Central Library, Edinburgh.
This week's photo shows Jennifer after winning the World Pipe Band Championships Banner and Trophies when she was playing with Shotts and Dykehead Pipe Band.